An Arizona Take On

Bridges For Peace Denver 2000 Conference
(These pages will take a little longer to load because of the pictures, so please be patient)

A Chai There

Update From Mayim Hayim Ministries
"Israel And The Church At The Dawn Of
The New Millennium Conference"

Click the Banner to enter the world of BFP
This 2000 BFP conference was a long awaited event for all of us in Arizona and I'm sure for others around the globe. Many of the Arizona Chai night people, as well as the leaders showed up for this event.

"I will bless those who bless you and I will curse those who curse you; and in you all the Nations on earth will be blessed" - Genesis 12:3. Faith Bible Chapel has put on 22 Israel Awareness Days over the years, this truly is a blessed Church. Their love of Israel should be the hearts cry of all the Church's in the world. Oh that it were, there would then be better understanding of who the Jewish people are. Faith Bible Chapel's hospitality and generosity of spirit is what I believe the Kingdom of God is made of. I will say more about them as I go on...

Saturday nights opening Gala was ushered in by the blowing of the shofar. Not one but 3 shofar's sounded out. Allan Moorhead dressed as the High Priest (Cohen) was one who led the blowing at the opening Gala...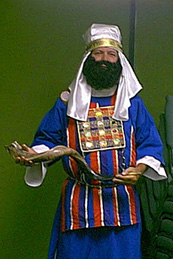 Faith Bible Chapel Church in Arvada Colorado was full, and only a few empty seats could be seen as the 3 shofar's (rams horns) waxed louder and louder. The lights were low so some of the pictures are a little dark at times. Better dark then none at all -this was my hearts cry when I saw them...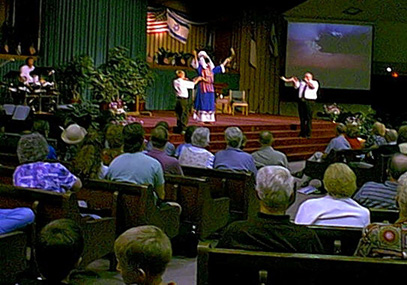 We were praising our God for all who attended the opening night gala.
This was the largest crowd ever I was told...

The worship was wonderfully led by Mike and Melissa Mott,
with Faith Bible Chapel's Singers and Dancers...

---
---
Lovely and graceful Michele Coker was truly a blessing to watch a she danced before Lord.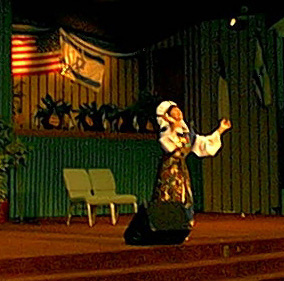 Michele also dressed as a High Priest (Cohen), and her worshipful dance
blessed all who was presence this evening...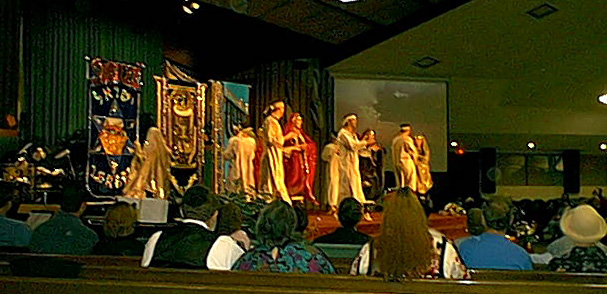 Faith Bibles Chapel's Dancers were full of spirited energy.
These young dancers have a great zeal for God,
and it shows up on all of their smiling faces...

Even the little children danced for us, but the two pictures I took did not come out...