IF SOME MAN HAD A GUN HELD IN FRONT OF YOUR FACE AND ASKED YOU "DO YOU BELIEVED IN GOD?" WHAT WOULD YOU DO?

WOULD YOU SAY NO, AND FEEL ASHAMED FOR THE REST OF YOUR LIFE IF HE DID NOT KILL YOU RIGHT THEN AND THERE?

OR WOULD SAY YES, I DO BELIEVE IN GOD, AND IF HE KILLED YOU, DIE STANDING UP FOR GOD?

IF YOU'D SAY NO, THEN YOUR ALREADY DEAD, AND IN NEED OF A SAVIOUR, WHO CAN INDEED RAISE YOU FROM THE DEAD.

BUT IF YOU WOULD SAY YES TO GOD, AND STAND UP FOR YESHUA MESSIAH (JESUS CHRIST) EVEN IF THIS PERSON KILLED YOU, YOU WOULD STILL HAVE LIFE!
WHAT WOULD YOU DO?
THINK ABOUT IT AS YOU READ THIS CHILD'S TESTIMONY

Note: This was sent to me, however, this is a real news article that was printed in a southern newspaper less than a year ago.
(If anyone has this news article, please send me a copy by snail mail, my address below.)

The Article - A Child's Testimony

There was a couple who were atheist, they had a child, a little girl. The couple never told their daughter anything at all about the God or the Lord from the report. Nothing at all!

Then one night when the little girl was 5 years old, the parents fought with each other over who know what, the father in anger shot the wife, right in front of this innocent 5 year old child. Then to make things worst, the Dad shot himself. This little girl watched all of it his horror. At the time there where no other family members who could care for this child, so she was sent to a foster home.

The mother of the foster home was a Christian. The mother of the home regularly took all her kids to church. On the first day of Christian Sunday School, the foster mother told the teacher that the little girl had never heard of Jesus because her parents were die hard atheists, and to have patience with her. The teacher lovely agreed.

As the teacher was teaching, she held up a picture of the man Jesus and said, "Does anyone know who this man is?" This little girl cry out loudly, "I do, that's the man who was holding me the night my Daddy and Mommy died."
Like I said, this is a true story, and made the newspapers down south. This is good new, and that is probably why it did not reach the major networks.
Now my question to you is this?

Do you believe the testimony of this 5 year little girl as truth?
Even though she had never heard of the name Jesus, He still held her the night her parents died, give a shout to the Lord who alone is good!!!

If you do not believe, ask yourself this question?
Why would a 5 year old child lie about something so real in her life?

If we were more like children, I think we would see so much more. God has shown Himself in so many ways to me, I have no problem believing this child. But then again, I'm a child at heart!
Isn't it funny how simple it is for people to trash God and then wonder why the world's going to hell!

Isn't it funny how we believe what the "newspapers" say, but question what the "Bible" - the Word of God tells us!

Isn't it funny how everyone wants to go to Heaven provided they do not have to believe, think, say, or do anything that the Bible tells us to do! Or is it just plain scary to you? It is to me!

Isn't it funny how someone can say "I believe in God" but still follow the Devil, Satan and his crew, who, by the way, also "believes" in God!

Isn't it funny how you can send a thousand 'jokes through e-mail and they spread like wildfire, but when you start sending messages regarding the Lord, people think twice about sharing with others.

Isn't it funny how the lewd, crude, vulgar and obscene pass freely through cyberspace, but a public discussion of Jesus is suppressed in the our school's and our workplace.

Isn't it funny how someone can be so fired up for Messiah on the Sabbath Day (Christian Sunday), but be an invisible Believer the rest of the week.

This is not funny, nor is it a laughing matter, its a very serious problem!

Isn't it funny how when you go to send this page, you will not send it to many on your address list because you're not sure what they "believe," or what they will think of you for sending it to them. Are we such poor witnesses for God?

Isn't it funny how I can be more worried about what other people think of me, than what the God who created all things thinks of me! (Are you thinking?)

We are to think on things that are light, lovely and of a good report, at least thats what the Word of God tell us to do, here read it for yourself:

"Finally, brethren, whatsoever things are true, whatsoever things are honest, whatsoever things are just, whatsoever things are pure, whatsoever things are lovely, whatsoever things are of good report; if there be any virtue, and if there be any praise, think on these things."

If this is a good report, then pass this on to someone you care for. That person may not know the Lord, but its time to let that person think about how short our lives real are...

"Yet you do not know what your life will be like tomorrow. You are just a vapor that appears for a little while and then vanishes away." James 4:14

Yes, I do love God. I am sold out to Him 100%. He is my source of existence, my Saviour and Lord. He keeps me functioning each and everyday, year after year. Without Him, I would be nothing. Without Him, I am nothing! With Him I can do all things through the Messiah of Israel, and it is He that strengthen me (Phil 4:13).

What about you my friend? Do you know my God and Saviour? If not click the picture of this artist rending of Yeshua (Jesus) holding a child: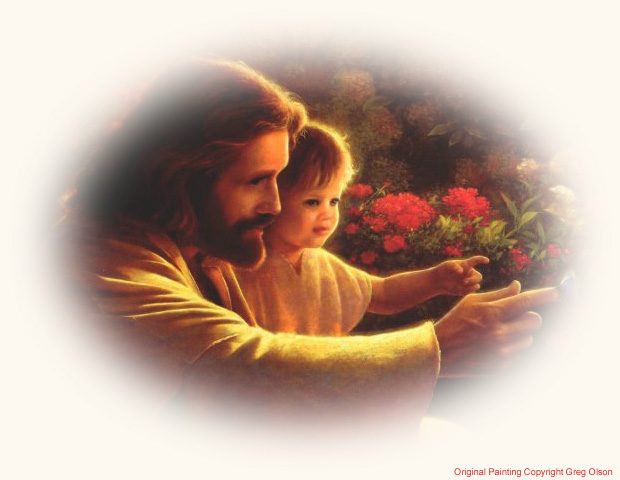 The art of Greg Olsen illuminates the soul and spirit of its subjects and uplifts the hearts and minds of its viewers. For more about Greg go here:
| | |
| --- | --- |
| | Greg Olson's Biography |

Blessed Is He Who Come In The Name Of The LORD


Mayim's Endnote