The Question?

In the shadow of the hill
A lonely man stands very still
Seeking an answer for his life
Birth out of the horror, pain and strife
That he witnessed on Calvary.
In his distress, locked in a stare
Each time he returns more uneasy
More aware of his questions.

HIS Cross has been taken down
From the hill
The crowds have dispersed
There is no longer a thrill
Of watching three sinners
Die on their Cross.

But look closer now
Did this Man really sin ?
Did The G-d of Abraham dwell within ?
This Man called Yeshua
Did He do any wrong?
And why was the sky dark for so long ?
Now you tell me His Body is gone !
What else must I think, what ever is wrong ?

Slowly you wonder why is there such a fuss ?
Wasn't He just a sinner, a Man just like us ?
Or was He really who He claimed to be ?
My G-D did my sins really crucify Thee ???
D. Sadler 1982 (C)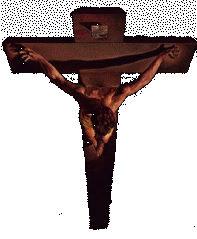 Back to: What Are We All About?