"Then I heard the voice of the Lord, saying, "Whom shall I send , and who will go for Us?" Then I said, "Here am I Lord, send me. " --Isaiah 6:8 (NAS)


That's what we said when God wanted us to go on the latest Jewish Voice Today Festival of Jewish Music and Dance in Berdyansk, Ukraine. We never thought that God would take us seriously when we said, Here am I Lord, send me. We are so blessed that we serve a God who knows better than us what we need and what truly will transform our lives.



It was the most exciting action packed 10 days we have ever experienced. The travel to reach the Ukraine was 27 hours door to door. It took about 35 hours to return home. (We experienced an overnight train). We had about 80 Americans and about 120 Ukrainians on the TEAM. That's the Jewish Voice Today TEAM. God immediately knitted us together in a short period of time because of the intensity of the work we had to do over there. This was evident in our Corporate Worship and Prayer time. We saw miracles in our midst even before the Festival started. As we got together for Corporate Praise and Worship and Prayer, God opened the heavens and everything we asked for was answered. We were singing songs in Russian and the heavens opened. It didn't matter that we did not understand the words, what mattered was the condition of our hearts.



Four immediate needs were:

One of our team members was lost at the Kiev airport.
A team-members luggage was lost.
My husband's breathing machine was broken so we prayed for a miracle healing of his
sleep apnea.
The stage props were detained in customs.



Rabbi Jonathan Bernis brought these needs before our team and the very next day, one by one, God answered our prayers. My husband no longer needs a breathing machine to sleep. He has used this for eight years!!! God was starting to build our faith to prepare us for the miracles we were all about to experience at the Festival. Before we even got to Berdyansk, I received a personal miracle healing of motion sickness. This has been a life long plague for me. I literally could not ride in the back of a car, bus, train, plane without getting ill. I was prayed over by two members of the team and when we reached Berdyansk, I was healed. I took one look at the private airline that awaited us in Kiev and said "Oh, Yeshua, I can't get on that plane without you, I need you!" On the trip back to the United States by bus, train, and planes, I was motion sick FREE!!! For the first time in my life I could eat, walk around and even read on the airplane. Praise Yeshua!!! God showed me that because I had faith and no doubt that HE would heal me, I received my miracle. " If any of you lacks wisdom, let him ask of God, who gives to all liberally and without reproach, and it will be given to him. But let him ask in faith, with no doubting, for he who doubts is like a wave of the sea driven and tossed by the wind. For let not that man suppose that he will receive anything from the Lord; he is a double-minded man, unstable in all his ways." --James 1:5-8 (NKJ)



We had a medical/dental team that did outreach everyday. We had over 400 people attend the clinics and over 300 professed salvation in Yeshua. Our medical team saw miracles and healings everyday. One healing that stands out is the man who was prayed over by one of our American Team members. His leg was 2 inches shorter than the other. In front of his eyes, the Lord grew his leg 2 inches. He was able to take his stints out of his shoe and had to learn to balance himself since he now had two normal legs.



We had outreach teams who went to visit Holocaust survivors in their homes. These precious people had prayed to receive Yeshua as their personal Messiah. All the years of torment and deep hurt were washed away by the precious blood of Yeshua. They were such precious people. When we prayed for them, we could feel the hurt, pain and the emptiness in them. It was almost like a void in their soul. Once Yeshua was invited in, we could feel the presence of the Almighty God living inside them. It was a transformation before our very eyes.



Every night of the Festival (all four nights) the Lord allowed us to experience and see first hand miracle after miracle. You could look into these precious people's eyes and see black. It was almost as if their pupils were dilated. Then when they professed Yeshua as Lord and Savior, you could physically see the light come into their eyes.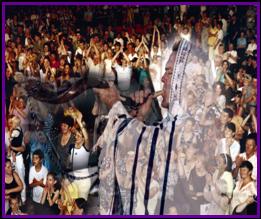 Harlon blowing the Shofar as the crowds praise God in the Ukraine

We saw the blind experience sight. The deaf were healed. We saw families and marriages transformed. We saw people coming in drunk one night and returning on subsequent nights sober and looking transformed. We saw children being healed. We saw witchcraft and other darkness flee because of Yeshua. We have no medical proof but believe that people were healed of cancer, liver problems, kidney problems and mental disorders. WE SAW JOY where there was once void and darkness. We saw miracles, we saw supernatural healings and we saw LOVE.



We thank Adonai that we were willing to go, it was truly life changing. We recommend that everyone go on at least one Mission trip and experience the true hunger that people from other parts of the world have to know about Yeshua. Father, we ask you to prepare the way for us to go on more trips to spread the Good News of Yeshua and to experience miracles, signs and wonders. Here are we, Lord, send US!!!!



Blessings in Yeshua,


Joyce and Harlon Picker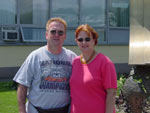 Harlon & Joyce at the airport in Ukraine
To contact them: Congregational Leaders
Harlon L. Picker - HLPicker@HisHighestHarmony.org
Joyce K. Picker - JKPicker@HisHighestHarmony.org
---
We would like to thank Harlon & Joyce Picker for sharing with us their wonderful mission trip to the Ukraine. If your interested in going on a mission trip to the Ukraine for a Messianic Festival with Jewish Voice Ministries, you may contact Jewish Voice Ministries for that info. Shalom