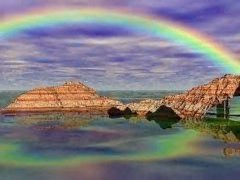 The Prophetic Word

The Prophetic Words given on these pages are just as unique as any rainbow because they are colored by the Holy Spirit of God. It is by the Spirit within the Believer that these Prophetic Words come forth to bring truth and joy.

Some of these words are prayers prayed by the Spirit-filled Believers. Some have a Messianic content, and some do not. At any rate we know they will encourage and uplift you when you read them.
The Word of the Lord for Mayim Hayim Ministries has always been:
"I AM TAKING YOU OUT TO THE NATIONS OF THE WORLD"







Also on this page you will find personal Psalms, Prayers, Songs and Love Letters people have written for the Glory of God and your edification.

The Knowing - by Adah Guzman 1990 © A Love Letter

Army Of Anonymous Ones by Deborah Morse

Dear Sweet Lord - Ani Baruch HaShem - by Rev. Barbara A. Di Gilio - A Love Letter

Let Me Breathe On You As given by the Holy Spirit to Rev. Marilyn Horowitz

Receive My Son As given by the Holy Spirit to Rev. Marilyn Horowitz

Praise And Worship - As given by the Holy Spirit to Rev. Marilyn Horowitz

Look Up And See! - by Rev. Gary Mendelsohn

You Are The Eternal Lord - by Rev. Shirley Mendelsohn

The Body Of Messiah - Given to Frances Short by the Holy Spirit

The Hymn, Te Deum - My Own Messianic Rending - Rev. Barbara A. Di Gilio

My Heart To Him - by Nancy Goward - A Love Letter

The One Who Sets Me Free - by Nancy Goward - A Love Letter ©

You Comfort Me - by Nancy Goward - A Love Letter 2007 ©

Kiss The Son - What The Lord Is Saying Today - by Ras Robinson ©



Sharon Boaz poetic prayers are simple words, yet they speaks to the heart of just about every Believer, because there from the very heart of God.

Praise To The Glorious One Above!
Prepare For Your Bridegroom
My Deliverer
Praise Yah
Stand Ready

Prophetic Words by Adah Guzman


I Delight In You My Chosen Ones

Beloved Israel "New"

Ani Ma'amin b'emuna sheleyma beviat HaMashiakh.
Ve'af al pi sheyitmahemeia, im kol zeh akhakeh lo bekhol yom sheyavo!
(I Believe with perfect faith in HaMashiakh's coming.
And even if He be delayed, I will await Him!)
Adah Guzman is a older woman who makes no claim but this: "I hear G-d's voice clearly when I'm studying His Holy Scriptures. It is then that my L-RD can touch me with His glory. It is then that time stands still for me, and I enter His Holy dwelling. Bless be His Holy Name."

---

---

---

A Word In Season

A Heart of Worship By Gloria Shepherd

The Song of Worship & Praise By Gloria Shepherd & Barbara Di Gilio
><><><><>Gloria Shepherd's Bio<><><><><
---
---
---
Sweetwater Church of the Valley is no more, but it's late Pastor, Brother Glen Foster, heard from God in a most special way. His life was fully devoted to praise and prayer and the restoration of Body of Christ (Messiah). Many times when I was in need, I was given a word fit for the season in my life by Glen. He knew not my need, so the word spoken I knew was from my Father in Heaven, how wonderful it was... I am so happy and pleased now that I can share with the world some of the Holy Spirit Prophecies given to him by God. The first three will speak to many of you. If you receive these words as if they are yours, I have seen miracles take place in my own family because of them. The Holy Spirit Prophecies really transcend time and space, making them timeless by His Spirit.
The Late Glen Foster Pastor
of the Old Sweetwater Church of the Valley - Phoenix, AZ
This Is A New Day
Refreshing In His Presence
Your Children Will Come In
---
---
Prophetic Word by Cindy Jacobs
For Phoenix, Arizona 2000

Prayerquake 2000


Mayim's Endnote