Teaching & Meditations by Rev. Barbara Di Gilio




What I Owe my Mother - Barbara Di Gilio




59 Bible Verses about Guidance i.e. God's Wisdom A Barbara Di Gilio MHM Teaching Tool




The Invisible War Spiritual Warfare A Barbara Di Gilio MHM Teaching Tool




Being Still Barbara Di Gilio




To Weather the Storm, any Storm - Have NO Fear of the Storm Barbara Di Gilio




So What Do You Think? A Provocative Study - Barbara Di Gilio



2015 PDF Book

The Mystery of the Tzitzit on the Hebrew Prayer Shawl - A Provocative Study on the Value of the Tzitzit
- Barbara Di Gilio



2015 PDF Book

Epiphaneia - The Appearing - Barbara Di Gilio



2015 PDF Book

What is Biblical HOPE? A word for 2015 - Barbara Di Gilio



2015

Biblical Evidence for Contracted Instinctive Sin Barbara Di Gilio




2015 PDF

Take NO Thought Barbara Di Gilio



2014

Proclamations on Behalf of Israel (Belivers can pray during their prayer time) Barbara Di Gilio


2014

Twelve Steps To Victorious Living From The Letter To The Hebrews Barbara Di Gilio


2014

The Lord's Prayer - Forgiveness and its Power Barbara Di Gilio


2019

Disputatious Spirit Barbara Di Gilio


Kavanah Barbara Di Gilio


A Prayer of Deliverance Barbara Di Gilio


Praying for the Unsaved Barbara Di Gilio


The Road to Emmaus Revisited Barbara Di Gilio


Green Pastures Barbara Di Gilio


Gates Of Wonder Barbara Di Gilio


Pain No More Barbara Di Gilio


It's a Mulligan Barbara Di Gilio


A Speaking in Tongues Bible Study Barbara Di Gilio & the Late Donald C. Stamps


Divine Healing Barbara Di Gilio & the Late Donald C. Stamps


2014

A Confession Booklet Barbara Di Gilio


My Trip - My Sacred Quest - Growth through Love & Loss Barbara Di Gilio

God's Word Of Encouragement For Israel Part I & Part Two -- Barbara Di Gilio


Dear Jewish Friend Barbara Di Gilio


Messianic Prophecies About Yeshua (Jesus) --


Tell me one more time, 'What do the Rabbis say about Isaiah 53?'


I Am The Way, The Truth & The Life - John 14:6 Barbara Di Gilio --A true story


The Triunity of God & Why I Believe Yeshua (Jesus) is God! Barbara Di Gilio


What is Replacement Theology? What is Supersessionism? Barbara Di Gilio

2014



Yoseph: A Word Picture Of Messiah Barbara Di Gilio


What is Faith? Barbara Di Gilio


Is It Really Jewish To Believe In Jesus? Barbara Di Gilio


Remember The Sabbath Day - Keep It Set Apart Barbara Di Gilio



Who Locked Up Israel's Hearing? Barbara Di Gilio

2018


A Fresh look at the Jewish Wedding Barbara Barbara Di Gilio

2014


A Fresh Look At The Biblical Hebrew Calendar Part I & Part II Barbara Di Gilio


The AlephBet Enigma of the Word "Mystery" Barbara Di Gilio



Psalm 119:18 Barbara Di Gilio


The Message of Yeshua "Our Problem" Barbara Di Gilio


Lamentations Pt. 1 & 2 Barbara Di Gilio


Sounding the Shofar Barbara Di Gilio



The Sabbath - Getting The Point! Barbara Di Gilio


What are we all about? Barbara Di Gilio


. How Do I Pray? Barbara Di Gilio


Ani Maamin - I Believe Barbara Di Gilio


Messianic Apologetics Barbara Di Gilio


8 Steps To A New Beginning Barbara Di Gilio


Where Does "The Divine Presence" Dwell? Part I & II Barbara Di Gilio


An Ancient Hebrew Prayer Barbara Di Gilio



. It Is Finished! Barbara Di Gilio


The Didache, A Very Jewish Document! Barbara Di Gilio


The Sin Abortion Barbara Di Gilio

2013


The Eighth Winding - The Eighth Day - Shmini Atzeret Barbara Di Gilio


For Unto Us a Child is Born: The Debate of Timing Barbara Di Gilio


"An Academic Essay" [ The truth about the 24th of Kislev/December and The Birth of Messiah ]
The article below is the older longer version of this article. We have the older one up do to all the requests
for it.

For Unto Us: Haggai Prophecy Part I & Part II Barbara Di Gilio

Did God Give Moses Two Covenants? Barbara Di Gilio

2012
Is the New Covenant hidden in the Torah (the first 5 book of Moses?)
Read this 4 part teaching article and find out that God did!
(Once again, we have added to this teaching article, we pray you will enjoy the insights we have found.
We are only linking only to part 1, part 2,3, & 4 are found at the bottom of each page.)

---

A Mayim Hayim Book Review Of "After The Rapture" A New Book By Jerry Dart

The

RX (Prescription) For Today Christians
Hebrew Perspectives RX 1 Rev. Barbara Di Gilio -
Hebrew Perspectives RX 2 Rev. Barbara Di Gilio -
Hebrew Perspectives RX 3 Rev. Barbara Di Gilio - 2014
Hebrew Perspectives RX 4 by Dwight A. Pryor
Hebrew Perspectives RX 5 by Wayne Leman -
Hebrew Perspectives RX 6 by Paul Keith Davis -
Hebrew Perspectives RX 7 by Dr. Robert L. Lindsey
Hebrew Perspectives RX 8 by Berkeley and Alvera Mickelsen
Now you can hear my Audio The Throne Room,
and read the words too... The Word to My Visit to The Throne Room



---


Glossary of Hebraic Biblical Theological Terms
Glossary of Theological Christian Terms
Glossary of Rhetorical Terms with Examples
Hebrew Transliterated Glossary
---
---
Zachary's Pages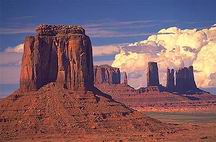 Monument Valley Arizona
Zachary A. Papuga is my grandson, the first child born into my family. He was born in 1990 and I had 7 Rainbow signs at his birth that God had made covenant with me. Too many sign to share here, but I'll tell you of two. The night before his birth a bright blue colored Rainbow appeared in the church where I was attending, that was on a Sunday night at 7:12pm. The next morning when I got up after my son in-law called telling me my daughters water had broken and they were headed over to the hospital, that same bright blue Rainbow hung over the hospital where he was born, no joking right over the Thunderbird Hospital. Zachary (meaning: One whom God Remembers), was a supernatural sign from God to me. God was telling me "Your prayers have been answered Barbara." He was the start of "Blessings" that our whole family would receive in the coming years. Zachary has the heart of king David, and he loves God with everything in him, but it is hard to live for God in this fast decaying world. I hope that in the coming days I will put up more of his writings. Comments are always welcomed, but send them to me and I'll past them on to him, thanks.


Perspective by Zachary A. Papuga -


More coming...
---
---
Teachings By Many Others...
























In honor of the six million who died in the Holocaust - For Yom HaShoah


Ancient Messianic Synagogue Seal - Article by Evangelical Press News Service


Israel's Messianic Jews And The Deity Of Yeshua: An Update --By David H. Stern
This article was written for the magazine "Israel Today," July 2002 issue and is reprinted here with permission of the author.
Wonders In The Ukraine -- by Harlon & Joyce Picker of Beth Yachad Congregation
Yeshua Messiah - Messiah of the Rabbinical Writers -- by GodAndScience.org
The Triunity (Trinity) of God in The Old Testament -- by Rich Deem
The Messiah's Hebrew Name: "Yeshua" Or "Yahshua"? -- by Dr. Daniel Botkin
Under His Wings -- by Pastor Bill Hybel - Hurting people need a refuge from their distress!
The Ephraimite Error -- by Kay Silberling, Ph.D.
The Giant Greater than Goliath -- by the late Dr. Lawrence Duff-Forbes

---



Heresy And Heretics: Identidcation And Response - by Rabbi Loren Jacob's
Old and New Testaments: Continuity or Discontinuity? - by Rabbi Loren Jacob's
God's Names, Titles and Descriptions -- by Rabbi Loren Jacobs
Rabbi Loren Jacobs - Messianic Machzor - Messianic Prayer Book on his web site




---

Jerusalem Above, Jerusalem Below - by Lambert Dolphin
The Sabbath and The Savior --by Samuele Bacchiocchi, Ph. D.
The Star of Bethlehem --by Craig Chester
Jewish Messianic Interpretations of Isaiah 53
Isaiah Chapter 53
The Suffering Servant -And You! by Fred Klett
PaRDeS - the Four Levels of Interpretation From YashaNet
Study Scriptural Fasting Start the New Year off right by fasting!
Jihad In America - A Steve Emerson Production - A must see Video has been taken down off the web!
You may buy it from by going to Victor Mordecai's web page.

Gideon's Trumpet - A timely article: By Douglas D. Webster
Service of Repentance [By the Evangelical Sisterhood of Mary - Canaan in the Desert]
Women In Leadership [By Lenore Lindsey Mullican] Great Article!
This article is also on our Woman Restored page.
Techelet - Tzitzit And Woman In The Talmud 2014
The Techelet in the Zohar
Historical Facts About Middle East Conflict
The Necessity Of Being Pro-Life [Article by Rabbi David Hargis]

How Good Is Good Enough? by Andy Stanley
A must read for all you who still think you need to work for your salvation.
---
---
The Real Audio Library of the Greats:
Chuck Missler - Getting Serious about the Bible
---
---
Messages From Around The World



Studies & Sermons by Pastor CSJ Claassen
The Evening Wolf
Three Loaves Of Bread
The Talith - Hebrew Prayer Mantle
The Goldfields Revival Centre
Visit Pastor Claassen web site and tell him we said hello: Welkom, South Africa
---
---
Articles below are by the Late Rabbi Mike Short of Blessed Memory
Mayim Hayim Ministries Passover Service Led by Rabbi Mike Short
Sign In The Forehead [Two Part Article]
Miracle of The Virgin Birth
The Way, The Truth, and The Life
The Aaronic Blessing - Part I & II [Two Part Article]
Migdal Edar - O Tower Of The Flock
Why Study Hebrew Or The Jewish Roots of the Gospel?
Service Of The Heart A Great Article
Why Bad Things Happen To Good People Or Why Good Things Happen To Bad People?
When Did Sunday Become The Sabbath?
How Passover became Easter? [Two Part Article]
---
---
Teaching from: "Ha Davar Word Studies"
The Rapture and The 70th Week
---
---
Articles For The Festival Season
How Passover became Easter - [New Two Part Article] by Rabbi Mike Short
Ruth's Loyalty - Jewish Loyalty - Our Loyalty A Teaching On Shavuot
T'shuvah By Rabbi Yosef McBride of "Kehilat Beit Yehudah"
Chanukah's Relationship To The Prophecies Of The Second Temple Period
Meaning & Celebration of the Feast of Chanukah-The Victory over Darkness! By Gilbert & Sabrina Suard 2004
---
---
Moorhead's Pages

G.A. Moorhead's Pages - Chai Letters
Brother Allen no longer leads a Chai group, but we have chosen to leave his wonderful teaching articles up, enjoy!
---
---
Jewish Testimonies & More...
These are stories of miracles! Jewish People who have come to understand and believe that Yeshua (Jesus) is the Messiah Israel has longed for. Each story will be a unique one, but one factor will be clear in all, God is in search of man, and that whosoever believes in Him should not perish, but have eternal life. For God sent His Son Yeshua into the world not to condemn the world; but that the world through Him might be saved (delivered)." -- John 3:16-17
---
Rabbi Sam Stern - Haderech - The Way, the teaching of the late Sam Stern, an Orthodox Rabbi born in Poland. He was an Orthodox Rabbi before coming to know his Messiah, Yeshua. The Rabbi wrote one book entitled: The Victory of Light, and its still available for small fee. Read the inspiring story of the late Rev. Sam Stern, who was born in Poland and ordained as a Rabbi. After I read Rabbi Stern's book, I saw for the first time what it meant to love God with all your being. This man was so faithful to God and His Word. A VERY POWERFUL BOOK! This book would make one great movie...!
Here is Sam's Index Page



Simon Greenleaf - The Testimony of the Evangelists
Paul's Story
Rabbi Loren's Jacobs Story
---
---
"Remarkable Testimonies"
The stories that will be placed here will be Testimonies of the "Supernatural" occurrences. We will do our part to bring you stories that will let you see that it is "God who is in search of Mankind." We will also do our best to make sure that the stories we bring to you are true, to the best of our ability we will seach the story out first before putting it up. However, we are only human, and if we find out that a story is untrue, we will put the story off this page.
---
---
Muslim & Hindu Testimonies
Testimony of Adel Mohammed El Naggar A former Muslim
The Testimony of Kartar Singh A Martyr of the Faith